One of the Most Rapidly Expanding Grocery Sectors
A Community Pillar
Asian supermarkets provide their community with a place to shop and find products of their homeland. Their specialty ingredients, fresh produce, fish, meats, and prepared foods can conjure vivid memories of beloved traditions and cuisine for customers. These markets have deep cultural roots, started by Asian Americans who saw a void to fill and an opportunity to provide for the heart of the community. For many new immigrants, they are a welcome taste of home and serve as a pillar for their communities in a foreign land.
X Team Retail Advisors members in Irvine, California, and Charlotte, North Carolina, assessed the most successful Asian grocery chains operating in their regions serving their communities and others. Today's Asian supermarkets are jockeying for the same anchor spaces as the largest conventional grocery store. Asian grocery stores are enjoying demand from the younger generation of Asian Americans and experiencing cross-over appeal. Many have launched online shopping, Instacart delivery, or their app.
A World On The Move, The U.S. Population Shifts
To understand why ethnic grocery stores across the nation are flourishing, we must examine our country's population base. The U.S. Census Bureau forecasts that by 2060 non-whites will make up 57% of the U.S. demographic mix. These changes are driving the industry's expansion. According to the most recent data, more than half of the U.S. population growth between 2010 and 2020 occurred within the Hispanic community. Hispanic and Asian inhabitants have grown by 23% and 35.5% over the past decade. Add to those reporting mixed cultural descent, and the percentages rise to more than 50% for each.
Social media, remote work, and increased international travel have made the world smaller and more familiar. According to IBISWorld research, ethnic supermarkets in the U.S. employ 204,368 people and have a market size of $49 billion.  Grand View Research cites a global market valued at $39.5 billion in 2021 that is expected to expand at a compound annual growth rate (CAGR) of 8.7% from 2022 to 2028.
Savory And Sweet
H Mart, a popular Korean supermarket chain described as "A Korean Tradition That Was Made in America," has grown in four decades from its first store in Woodside, Queens, to 84 stores in 14 states. It offers a wide range of Asian specialties, housewares, and a famous food court, Market Eatery, that brings together an array of prepared food vendors under one roof. H Mart has built a widespread fanbase that appreciates their stores' variety, presentation, and convenience.
Michelle Zauner, a Philadelphia musician, and writer with mixed Korean American heritage, describes the food court in Crying in H Mart as "A beautiful, holy place. An ideal people-watching spot while sucking down salty, fatty, black-bean noodles." Zauner's stroll down the aisles of H Mart unlocks poignant memories of her late Mom and the favorite Korean foods they shared. For Zauner and many others seeking culturally specific foods, a trip to the nearest store, often to neighborhoods on the city's distant edges, was a journey to a different world.
Sea To Shining Sea
Jay Hagerman, a director and retail broker at the Providence Group in Charlotte, North Carolina shares, "Retail follows people, and the increasingly multicultural communities in submarkets is driving ethnic grocery store openings." He describes the historical pattern that gave rise to these businesses. "Immigrants saw a void in the grocery marketplace and would open a specialized store to serve the tastes and needs of their community." An original location would give birth to others as the initial community prospered and moved to suburbs or different regions. Hagerman points to Charlotte's Super G Mart as an example of organic growth based on the success of their other locations.
Super G Mart promotes itself as "the largest international supermarket in North Carolina" and recently opened its third store in Pineville, roughly 14 miles from Charlotte, a young, affluent, and diverse city, according to Niche.com. A third of the population is between 25 and 44 years old, and 80% hold some college education or higher. The noncitizen community makes up 8.7% of the total population, and 55% of its residents are non-white.
Ethnic food retailers, recognizing their crossover appeal,  are selecting new locations purposefully incorporating a demographic mix and, as a result, are thriving. Tellingly, Super G Mart invites its customers to "Try new things. Amazing Finds in Every Visit." The store offers a global adventure as customers "travel" across aisles of international groceries and household items. Appealing to Millennials and Gen Z consumers, often described as the Foodie Generation, these intercultural tastemakers desire convenience but demand authentic and fresh ingredients. They are known for seeking new experiences and discovering "finds" that are often captured and shared on social media.
Visionary Founders
Don MacLellan, Managing Principal at Faris Lee Investments, is a long-time retail specialist based in Irvine, California. MacLellan's focus includes acquisition and disposition services and real estate investment advisory for the retail investor. He shares his insights and experience with 99 Ranch Market, an enduring company relationship that goes back decades. "99 Ranch and other leading Asian supermarkets are looking to aggressively expand their presence and attract a younger, affluent customer. They (the stores) had to pull back on expansion plans during the pandemic because of supply chain issues. These are starting to open up, though rapid expansion is still hindered by the inability to access fixtures and equipment needed for store growth."
Founded in 1984 by Taiwanese immigrant Roger H. Chen, 99 Ranch Market is one of the largest Asian supermarkets in the country, owned by Tawa Supermarket, Inc. Mr. Chen opened his first store to provide suburban Asian customers an alternative to driving long distances to urban Chinatowns for grocery shopping. The company's Buena Park, California headquarters operates its own production facilities, farms, and processing factories for its company-owned 54 stores nationwide. 99 Ranch Markets can be found throughout Southern California and Orange County, which has become a draw for Asian customers of various ethnicities, including Chinese, Korean, Japanese, and Southeast Asian.
Jonson Chen, 99 Ranch's Chairman, wants to grow locations and improve the stores' ambiance. A fresh interior design in the newer supermarkets offers visual simplicity and shopping efficiency that takes its cue from upscale mainstream players. Their in-house café serves Asian specialty foods and features a Taiwanese bakery. Prepared food stations provide busy professionals with a convenient, high-quality dinner or lunch.
MacLellan explains that Asian grocery-anchored centers have provided the nexus for other immigrant business owners to open complementary dining, shopping, medical, and banking services in that same center. He shares, "Dr. Alethea Hsu pioneered this approach, opening her first development, Diamond Plaza Shopping Center, in Rowland Heights, in the East San Gabriel Valley, a heavily Asian community. She developed the concept, and her family-owned company managed the center, which was a tremendous success." Hsu's second shopping center, Diamond Jamboree, opened in 2008 in Irvine, creating a bustling hub and the perfect match for Irvine's booming Asian population. Anchored by H Mart, the development touts itself as "Orange County's International Eatertainment Destination." Its success has transformed the vicinity, sparking residential development and a live-work environment.
Crossing Boundaries
ValueRock Realty, a leading retail and mixed-use real estate investment, and operating company based in Irvine, is developing a 41,400-square-foot 99 Ranch Market at Larwin Square, a grocery-anchored community center in Tustin, California. The store will assume the vacant anchor space formerly occupied by Haagen. It is expected to open in the second half of 2023, bringing the surrounding community its only full-service Asian grocery store.
ValueRock's Senior Managing Director, Dennis Vaccaro, notes that Asian grocery store operators have adopted a successful sub-tenant business model imported directly from overseas. Vaccaro shares, "Asian operators have a completely different business model than traditional American grocers. They sublease a large percentage of their floor area to subtenants. If you enter the new H Mart in Irvine, you'll see this if you look closely. Or, in any Asian grocery store, you'll notice this happening." He explains, "Usually, the sub-tenant is food and beverage, but not always. Sometimes you will find retailers. So, their business model combines their grocery product and sub-leasing to capture their customer base for multiple, longer stays under the same roof."
At The Commons at Aliso Viejo, twenty miles down the coast, ValueRock is undertaking an extensive 180,000-square- foot commercial plaza remodel of three defunct big box stores. The shopping center's grocery anchor will be a 45,000-square-foot 99 Ranch Market alongside a Tesla showroom, a collection of restaurants, and shops, including Daiso, a Japanese dollar store.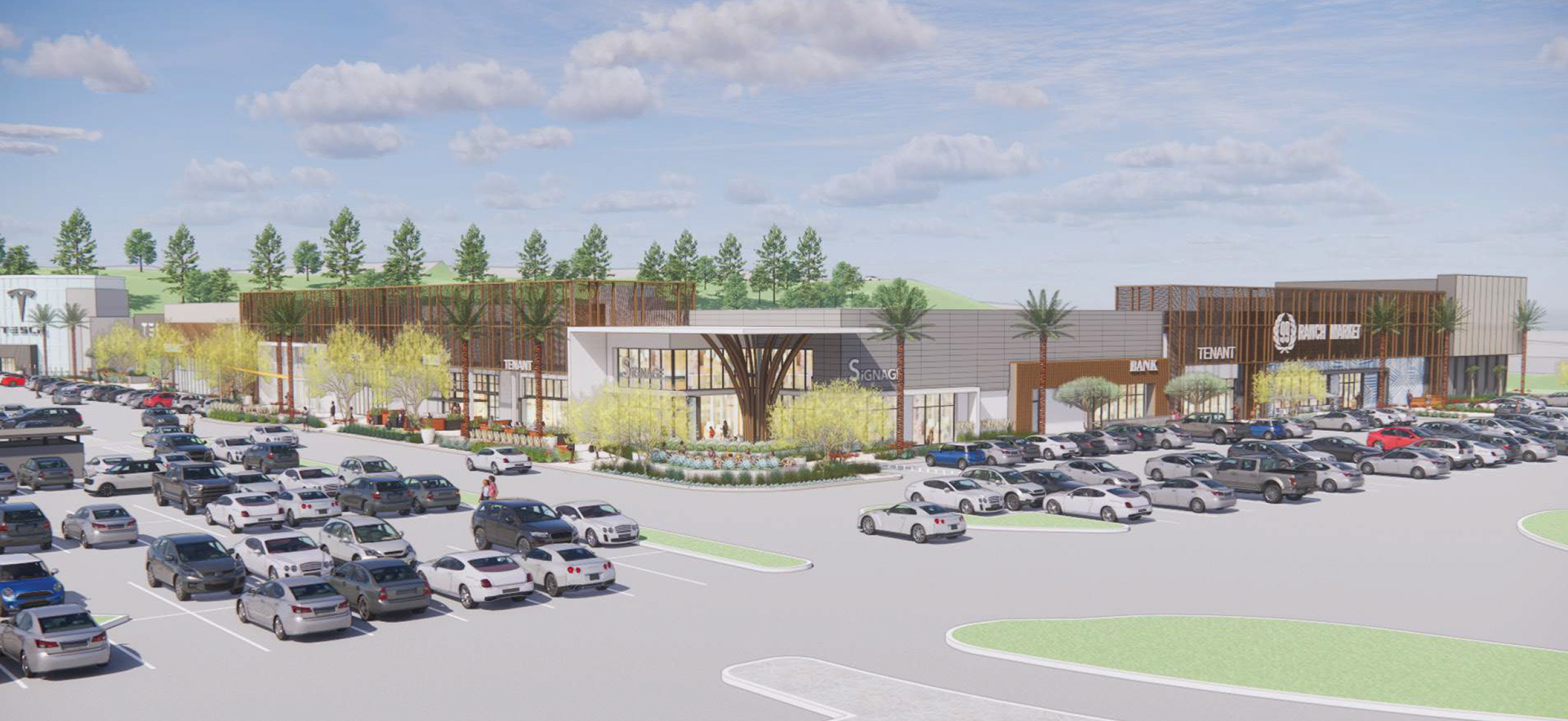 Vaccaro explains, "Demographic shifts continue to occur. Specialty grocery stores can draw from a wider radius than traditional grocers. Let's assume that (an ethnic grocer) is targeting a certain population. They know they can expand a 15-mile radius from their targeted community and still draw that customer, plus others. South Orange County is further behind in the proliferation of ethnic grocery stores. 99 Ranch understands that their new Aliso Viejo store will attract a wider radius of shoppers, positioning them advantageously in the marketplace."
Know Thy Customer Well
Given the numerous potential opportunities to capture market share, it is unsurprising that other Asian grocery operators are focused on expanding their presence. Vaccaro asserts, "My colleague Don is correct. Our clients are all looking at their growth strategies and new locations. It is a continuous conversation; in my experience, not all ethnic grocery stores have the same approach." Persian grocers, who Vaccaro believes are some of the best operators in the industry, know their customers well and sell a mix of international items. Vaccaro states, "The inventory mix appeals to a broader consumer base, not one ethnicity but several cross-sections, and these merchants stock a wide variety of products in their stores." Vaccaro believes that a hands-on manager that caters to their customers will gain loyalty. Vaccaro and MacLellan agree that the merchant, who reads the data and research, talks with the customer, and is responsive, will win long-term business. Understanding consumers' desires and expectations will become even more essential as we become more diverse. "To me, this makes a lot of sense, right?" Vaccaro concludes, "Because we have mixed demographics almost everywhere in Southern California."