Although Santa is expected to hitch up the sleigh to deliver much of the merchandise Americans may desire for Christmas, this is not going to be a typical holiday season, according to several X Team Retail Advisors industry veterans, located in major markets across the U.S. Despite shoppers flowing back to stores, soaring inflation, and economic turmoil, indicate that consumers will most likely not be shopping in the same manner, as they have in the past.
Retailers have taken note, are employing new strategies, and plan to deepen traditional approaches to maximize the buying season. So, what can we expect to see from retailers and consumers? There may not be one overarching presumption or expectation, and a few may be contradictory. Retailers are facing different challenges in 2022, as the pandemic winds down and supply chain hiccups abate. This year, consumers may be making their lists and checking them thrice, to account for tightened budgets, and shifting priorities.
Expect an earlier and extended shopping season, intensified use of data, online tracking, and retargeting, as retailers rely on AI to predict, anticipate and guide consumer preferences. This holiday season will produce digital campaigns and experiences that meld the online and physical worlds in an immersive approach to interconnect the consumer experience across channels.
Shop Early To Maximize The Buying Season
…And Shadowbox Inflation
According to KPMG 2022 Holiday Shopping Report, 75% of retailers surveyed expect to do 40% of their company's total annual sales during the holiday season. Retailers understand that inflation is a top worry for most consumers, and have kicked-off holiday sales in early October, to allow for an extended purchasing season. Shopping patterns have also changed during the pandemic, driving consumers to online, BOPIS, BOSS, and other omnichannel solutions. Online sales are projected to rake in nearly $210 billion this year, a 2.5% year-over-year increase from 2021, according to Adobe Analytics Holiday Shopping Trends & Insights Report, which tracks data for online retail spending.
However, with wallets tightened, consumer spending is down and gift buying is expected to be smaller and more practical. Consumers may favor entertainment experiences and travel this season over consumer durable goods, which were buoyed with extra stimulus cash during the pandemic. To combat these factors, retailers have been offering increased opportunities to buy, with early and frequent promotions.
The National Retail Federation (NRF) says nearly half of all consumers feel it is better to purchase gifts and seasonal items early to avoid inflation-driven price increases toward the end of the year. Another third believes that it is best to purchase items earlier in the season, as deals won't get any better. Addressing this sentiment, Amazon has offered a second Prime Early Access Sale this fall to address inflation, and inventory concerns, and to manage their over-expansion during the pandemic. Target Deal Days kicked off their early holiday season with a focus on deep discounts on trending items across many brand categories.
Consumer behavior has shifted in recent years, with many choosing to spread out their shopping over the entire season. Over half, plan to start their holiday shopping early, to avoid any supply issues and locate the best prices. Shoppers are now in the habit of doing research online and using price comparison tools to take advantage of special promotions being offered across the season. Retailers are enticing price-sensitive customers through loyalty club discounts, layaway programs, and digital commerce promotions. It remains to be seen if Black Friday will resume its position as the supreme communal holiday shopping experience.
X Team affiliate Jim Bieri of Stokas Bieri Real Estate, a Detroit-based retail commercial real estate company, believes that online will continue to play a strong role in holiday shopping, as families look for bargains to stretch their budget. "Families are struggling to pay the bills and meet their expenses. I expect online discounts to start early on overstocked items as customers look to beat rising inflation and a deepening recession by buying early."
Dave Cheatham, President of X Team and Phoenix-based Velocity Retail Group agrees. "I do expect that people will shop earlier online and in-store according to their preference, and will benefit from aggressive promotions and holiday deals. Last year, inventory was so low that retailers were not in any position to offer consumers special markdowns. The retail industry saw high demand for merchandise at all levels and low inventory. This year is flipped. Retailers will have a better level of inventory versus the supply chain drought we had last year. However, the consumer may fill their shopping list with needs and staples for the family, rather than wants and aspirational luxury items. I expect value stores and the basics, such as clothes for the kids, to do well." Walmart, Nike, and Urban Outfitters have announced an inventory surplus this holiday season that will translate to heavy price promotions and savings for the consumer. Apparel and accessories are top gifts during the holiday season. Mastercard Spending  Pulse expects apparel gift sales to see a 4.6% increase over last year.
The Inventory Challenge
Get The Balance Right
During the pandemic, delayed or canceled orders that then arrived in ports, have caused an inventory glut for many retailers. Excess inventory is driving aggressive promotional sales, causing retailers to cut prices to clear merchandise from overstocked warehouses, into consumers' hands. Industry experts agree that those retailers in the best position to succeed were able to clear old merchandise before the holiday season began, and accurately forecast inventory needs.
Tim Miller, Principal of GreatStreet Realty Partners in Chicago, who specializes in tenant representation and master brokerage, offers, "I believe that some of the global supply chain issues have eased, but those macro issues that poked holes in retailers' local supply chains, need to be fixed." Bieri concurs, "Getting the right goods to the U.S. remains a problem. Nordstrom, The Gap, and Tapestry have announced that they will use air freight, if necessary, to deliver merchandise to stores." Miller offers, "Most retailers were used to a smooth, cyclical season change in their inventory. Now, we see retailers scramble for more space to liquidate old merchandise to make room for new in their stores." Miller is confident that retailers have learned from the global disruption and will be better positioned to handle issues in the future. Bieri adds, "Inventory will even out and the season should end up with moderate growth. The key is to have the inventory that shoppers seek." Miller asserts, "Those who can aggressively market and promote events will do well. Level B and C shopping malls may struggle with low foot traffic if they are unable to deliver on promotions and events."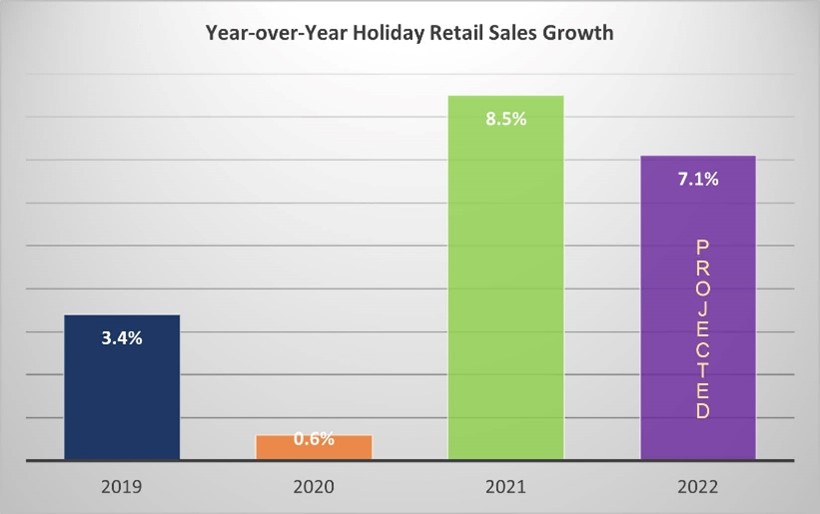 Data Mastercard; Chart: X Team Retail Advisors
Brands Sleighing The Holiday Shopping Experience
This holiday season is bound to be far more promotional than 2021, as retailers work hard to lure customers. A smart pairing between Macy's and Toys' R' Us will deliver in-store toy shops to help boost holiday sales for both brands and build market share. The department store has been partnered with the toy company for online sales since August 2021, filling a gap in its inventory. Macy's toy sales jumped 15 percent year-over-year for the first quarter of 2022 according to RetailWire. Macy's expanded its partnership this past October, to include a Toys' R' Us department in every store across the nation for the holiday season.
Sam's Club has created a virtual Griswold's Christmas Vacation house offering an immersive shopping experience, stocked with gift items, festive décor, and music. Clicking on a featured item reveals a short product description and links to the website to purchase the item online.
Department store retailers are contextualizing their merchandise by teaming up with influencers to offer shoppers curated shopping collections, and their expertise. Nordstrom and Nordstrom Rack will be hosting in-store and virtual events focused on interior design, holiday fashions, gift ideas, and in-person holiday meals.
The Holiday Spirit, Yet To Come
…And To All A Good Night!
Although the impact of the recession will be felt, the greater inventory will likely account for an increased volume of sales, resulting in a solid holiday retail season. Certain retail sectors will do better than others that may be coping with an excess of inventory. Apparel, furniture, and home improvement will offer deep discounts to spark sales and clear merchandise. Dave Cheatham suggests that to gauge the success of this year's retail holiday season, it might be wise to benchmark it against pre-pandemic statistics, for a more accurate assessment. He explains, "Although things are getting back to what we remember as "normal," we are not there yet." Steve Edwards, founder of The Edwards Company and a three-and-a-half-decade veteran of the retail commercial real estate industry places it all in context. "We are retail brokers representing some of the top tenants and landlords in the country, and are paid to take the pulse of our clients, and gauge consumer sentiment daily. In my thirty-five years in the business, I have never seen such an unpredictable market. Economists are contradictory with each other and sometimes with themselves. The bottom line is, I don't think that anyone has a bead on how the holiday season will turn out." Cheatham offers this final thought, "One thing is clear, economic uncertainties will decidedly play a role in this season's outcome."