Exploring the Exponential Growth of the Retail Resale Market Amidst Inflation and Sustainability Demands
The Doughnut Economy: The Nexus of Theory And Sustainability
In 2017, Kate Raworth, a British economist and the author of "Doughnut Economics: Seven Ways to Think Like a 21st Century Economist," pointed out that current economic principles are fundamentally ill-suited for addressing the significant challenges of this era. Raworth presented the ideal future economy as a perfectly round doughnut. A deliciously simple concept, Raworth proposed that the pastry's outer crust represents an ecological limit, while its inner ring represents a social foundation. Step beyond the outer ring, and you damage the environment beyond repair. And spiraling below the doughnut's inner ring, its social foundation, will expose the vulnerable population to risk, increasing income, food and housing insecurity, and inequity. Raworth put forth three economic tenants to distribute wealth fairly, regenerate resources that it uses, and allow people to prosper. Economic growth, Raworth argued, can be decoupled from resource consumption and environmental degradation.
Raworth's ideas gained attention within the convergence of outlier events and scientific data pointing to global warming as a potentially existential threat to the planet. As her ideas spread, they caught on with climate activists, governments, industry, and the emerging generation of conscientious consumers who heeded the call and embraced the pursuit of a sustainable and resilient economy.
Inflation Pinches And Cinches
Consumers made it clear emerging from lockdown that although they may call the office home, they still wanted to get out and shop, dine in restaurants, travel, and play. Unfortunately, inflation soared alongside a rediscovered yearning for the finer things and consumption. The Fed's unprecedented ten rate hikes in a row put the kibosh on many expensive splurges. Retail therapy began to manifest differently, particularly among Gen X, the Millennials, and Gen Z, the youngest cohort and most sustainably minded of the three. This mindset shifts in the face of rising prices encouraged shoppers to become more conscious of their spending habits.
A more economical approach helped contribute to the popularity and growth of the retail resale market, which is outpacing the growth trajectory of initial retail sales, and fast fashion, whose sales are flat and relies on a business model of quick turn-around and production and produces lower quality products not designed for staying power. Melissa McDonald, a Partner at The Providence Group in Charlotte, North Carolina, is an expert in retail tenant representation and has built relationships with some of the most prominent retail brands. McDonald believes social media and influencers play a role in the resale segment's growth. "Yes, inflation is a contributing factor, most recently with the cost of consumer goods increasing. However, I see the impact of social media on female consumers who may feel the pressure to market their image and remain relevant through fashion," she shared. "Many consumers, including me, buy on the resale market and shop online and in stores. I generally will not buy a pricey handbag or shoes at full retail unless I keep the items for a long time. Resale (when you are buying and selling) allows you to sell items you have not used and enjoy newly purchased resale items you may have discovered," she added.
Gen Z's Bazaar: The Booming Resale Market
James Reinhart, thredUP's CEO, states that he doesn't see the apparel industry's historic reputation for waste, production overruns, and purposeful obsolescence going back to how it used to be. He envisions a sustainable path forward that is backed up by the numbers. The global secondhand apparel market growth will be 3X faster on average than the worldwide apparel market, ThredUP's 2023 Resale Market and Consumer Trend Report found. It is set to nearly double by 2027, reaching an estimated $350 Billion. The U.S. secondhand market comprising 20 percent of the global market, is expected to reach $70 Billion in the same period. And it is expected to continue to grow faster than any other channel.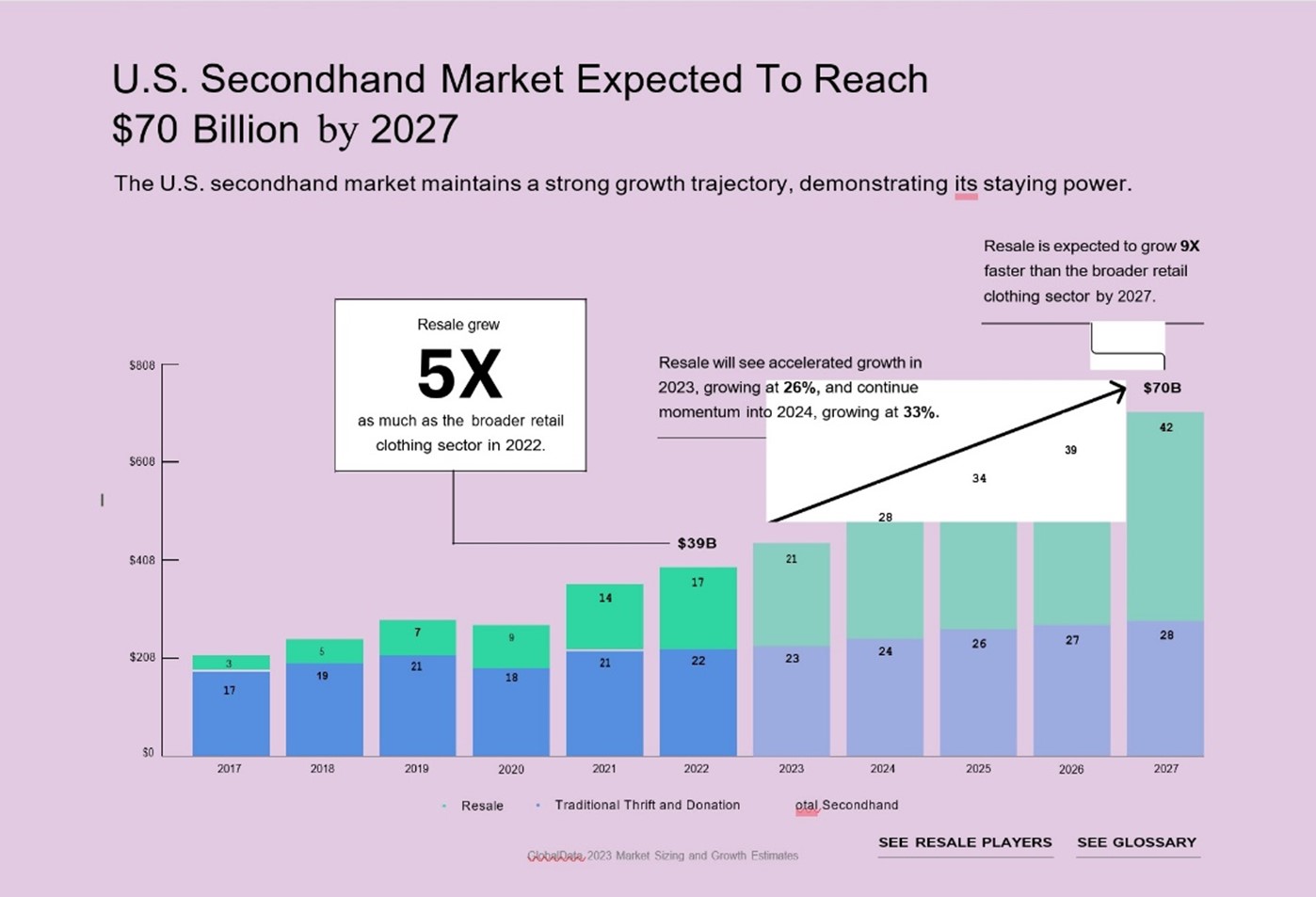 Sustainability and shopping green brands may be the current Zeitgeist, but the cost of living increase is the inflection point where idealism meets realism for Gen Z consumers. Many younger consumers share that although they prefer to purchase sustainable or green brands, it is tough to afford the higher label price that often accompanies this apparel and accessories. A recent U.K. study from customer research company Untold Insights found that the cost of living impacts 96 percent of Gen Z and Millennial U.K. consumers from sustainable purchasing. McDonald also has witnessed this, convinced that buying exclusively from sustainable brands is a nice talking point, not borne out in reality. "I know they are buying from Zara, Mango, Target, H&M, and the endless supply of "disposable" apparel made in China and Asia. There is a percentage that adheres to that, but it doesn't equal half. They watch models on social media talking about it before they show up to an awards show in Gucci, Prada, or Chanel- some of it is vintage, but it is a relatively small percentage," she notes.
Turning to resale, the consumer can enjoy affordability and sustainability. The rise in popularity is rooted in consumer demand for quality goods at cost savings. Consumers shop secondhand to save money while still enjoying fashion trends. Experts agree that while more people are aware of sustainability due to the resale market and buy-back programs, they are generally not choosing resale because they are passionate about sustainability. But instead, the enthusiasm lies in whether they are getting a deal on an item or buying something previously unaffordable. Several retailers have started resale programs to target their existing customer base while attracting new shoppers. High-profile retailers such as Levi Strauss, Lululemon, Canada Goose, PacSun, Patagonia, Nike, and H&M's Sellpy platform (which offers their own secondhand merchandise and other third-party brands) have launched initiatives to take advantage of the market opportunity while supplementing their inventory and avoid overproducing merchandise.
Savers: Thrift Proud, Changing The Perception
Terry Bortnick, Principal, and Lea Park Clay, Retail Broker with Axiom Retail Advisors in Irvine, California, represent the national chain Savers in Southern California's sub-markets of Orange County, Los Angeles, San Diego, Ventura, and the Inland Empire. Savers began as a single thrift shop serving its community in Bellevue, Washington. It has grown into the largest for-profit thrift operator in the United States and Canada, selling pre-owned apparel, accessories, and household goods. Their stated mission is "To champion reuse and inspire a future where secondhand is second nature." Savers owns 315 stores in the United States, Canada, and Australia and has filed their Initial Public Offering with the SEC. This success reflects their loyal and engaged retail audience that enjoys the hunt for one-of-a-kinds and the delight of saving a few bucks in the process.
Bortnick understands the great appeal and business model. "I can see why this category is expanding," he exclaimed. We see that the thrift model or resale shop, especially the large, well-capitalized (thrift) retailers, are now becoming a first-tier choice for many shopping center owners," he confirmed.
Fewer big box retailers and an increased focus on ESG, social and corporate governance have influenced the consumer-especially the younger consumer and changed purchasing habits. A resale store, like Savers, touches upon all these considerations. Value-oriented retailers have embraced the bargain-hunting model, according to Bortnick.
His colleague Lea Park Clay agreed with this assertion. "That's exactly right. I have an 18-year-old in the house; she and her friends are all thrifting enthusiasts. They go on thrift store outings together, and only if they cannot find an item on resale do they purchase new. The sustainability movement has influenced their consumer behavior," she explained.
Bortnick affirmed, "We have seen customers coming into the store twice a week or more to shop with the same frequency as if they were going to the grocery store." He noted that the expectation of landing a "find" and a sense of discovery keeps customers engaged and returning for more. "Their inventory changes daily based on donations and partnerships with nonprofits. This repeat customer positively impacts foot traffic and increases exposure in these shopping centers," he explained. The for-profit status of resale retailers like Savers departs from the charity shop model. They have become more attractive for shopping center owners and municipalities who can reap meaningful sales tax revenue from these high-volume for-profit retailers.
What Goes Around Comes Around, and Stays Around
Retail experts agree that circularity, upcycling, and reuse are here to stay. Fashion, notorious for its disreputable record of waste and inefficiency, is being forced to make amends for its transgressions by a global movement. Fashion schools now commonly offer sustainable fashion programs to train designers for the future. Sustainability is being taught in our schools and displayed in our cultural institutions. In 2017, Amsterdam opened the first museum dedicated to sustainable fashion, Fashion for Good. The organization acts as a laboratory, business incubator, and education center, promoting a responsible clothing industry with the city's and government's economic buy-in. Closer to home, category innovators like Savers, prominent retailers starting their own in-house programs, specialized digital resale platforms, and multi-brand retailers offering secondhand options offer consumers broader choices. Retail will continue to tap into this trend to appeal to shoppers and support the circular economy and a greener future.